hello people~
its a great day ayte??
chill,,x yah pkey psal assingment,,
x yah pkey psal satu baldi unbasuh baju,,
lek udah :)
nati ptg siket baru kte kelam kabut k,,hehe
okee,,
today nk post psal mia girls~
love em lah,,
the princesses (childish ke ney) of the Z :)
first and foremost,,
comel??sorry,, taken okee,,
hehe,,budak ney kecik,,and the perangai is like budak kecik also,,
annoying!!!haha,,selalu mumbling unnecessary stuff,,
and sngt2 x confident at a time,,
tp tp,,despite that,,she's a caring friends,,
slalu support my opinion,,
even time gossip and goes like "ughh that girls a biatch!!!"
and she support that,,hehe,,cam if dye x support and go like "x lah she's fine lah" mesti i cam benggang en,,in short dye slalu bwat bende yg senang kan hati kawan2,,pkey psal kwan2 and seboleh2 x nak bg kwan yg garang2 cam sy ney marah,,hehe
a good fashion adviser gak ney ;)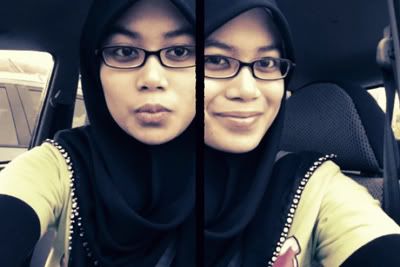 budak ney sngt chill,,
sumtimes agak saket hati if ckap ngan dye,,sbb no respon,,haha,,
like a boss jew dye decide anything,,yeahh enn??
but dye sngt sensitif ok,,
all pekey perasaan org even aku pown x terpikey nk pikey cmtuh,,
dye kenal satu2 perangai kteorg,,
a good observer ney,,hehe
a good listener jgak,,she'll never judge you,,
blurt out lah ape problem or nasty secrets pown,,,
dye dgar and calm you down,,never judge,,never,,and i love that in her,,
and dye ney garank gak,,if she say A then its A not B nor C,,haaa
next is the most garank,,haha its Nooratiqah Aminuddin
haa,,ney mak cik ney garank ney,,
selamba amek kotak rokok bf dye en ronyokkan,,
tgok,,otai x otai,,
and bile dye plan ape2,,if x jd means x mungkin,,
sbb bile dye ckap jd then its jd,,and sume org kene ikot!!!
haha,,yg berani lwan ckap dye only mak cik atas td,,atie,,haha
penah ari tuh dye call then selamba ckap "cepat siap,,kte kt depan umah kmu"
yeahh,,like a boss!!!nak x nk kene siap ahh,,
haha,,
but yet,,mak cik ney sngt mature,,dye dewasa,,
and a very very good adviser,,
and advise dye sngt pedas,,saket mencucuk,,and of coz masuk terus dlam hati and otak,,
penah ari tuh heartbroken,,
call dye and nages2,,dye trus membebel,,ckap "wth lah nk nages psal laki tuh,,dah dye x nak tuh dah lah,,x yah jd bodoh!!!kmu ade maruah kan"
haaa,,,nah amek,,x ke terberhenti trus tangisan syahdu kau,,hahaha,,
and this girl is a very independent girl,,
a girl with opinion and confident,,
loikee enn :)
haa,,ini mak cik pown sedikit garank,,
hehe,,moody2 ahh gak,,
tp if x kenal dye betol,,sbb bile kenal,,dye sngt lah manje,,n gedik!!!haha
gelak dgan dye mmg x ley kontrol,,berhantu!!! XD
a great listener,,a good adviser,,
and sorng yg best untk kongsi anything,,
even ur stupid daily routine,,haha,,,dye lyan je :)
mak cik ney garank2 tp innocent,,
sngt innocent kot,,
and sngt lembut hti,,
x mean cm sy ney,,hehe,,maybe ayat2 dye jew mean,,tp hati dye x,,
sngt suke sharing gossip ngan dye,,or mitak pandangan dye in sumthing :)
next is Aina Syakira
yg ney pown same cam yg paling atas td,,nana,,
mcam budak2!!!haha,,and kami mak cik2 garank ney cam kakak2 dorg lak,,
mak cik ney suke bebel psal ape jd kt U dye lah,,umah sewa dye lah,,
hahaha,,cite smangat lak tuh,,
smpai satu kelas dye kt UiTM Melaka tuh kteorg dah twu name,,haha,,ngek kn??
budak ney pown sensitif,,suke nages,,cam sweet lah :)
even dye ske nages,,x means dye x strong!!!
dye sngt strong emotionally and mentally,,
maybe lg strong dr me,,
dye ske gak bg advise2 yg useful,,and ske based on her experienced,,so that we learn,,and x hurt cam dye,,fham x??
and dye pown jenis yg x judge org,,x senang ahh dye nk kutuk org,,budak baek ney!!!hehe :)
actually gang Z ade rmai princesses,,
tp x dpat nk highlight yg len,,
highlight yg lime ney dulu k,,
yg laen nati k,,
sbb rmai yg dah lame x jumpe,,
so cam mane tawu dorg da change enn,, :)
and wat i love bout mia girls is that,,we support each other,,
we become adult together,,
we advise each other,,correct each other and we grow mature together :p
kteorg kritik each other fashion sense,,but in a good way,,and sumtimes give idea or tips on dressing,,
then,,make up same2 :) even comot tp x kesah sbb kteorg naturally cantek!!!
hahaha,,and itu satu lg,,
we always praise each other,,
sbb that helps we gain confident :)
then,,in love or scandal issues,,
we also support each other,,bg advise..bg opinion,,and open mindedly receiving each other opinion :)
bnyak lah lg,,
we go retarded and crazy together,,
speak loud in crowd,,
bising2 dlam wayang,,buat cam tgok tv kt umah jew ;D
shopink,,lepaks,,nages,,ketawa sume lah!!!
sume same2 :)
since forever,,
we're not bestie,,
we're sisters :)
always have,,always will,,
together,,
insyallah,,
best kn we stay friends,,then bile dpat anak,,
boley anak2 kite lak jd bestie,,kn kn kn???
best nyer weyh!!!!cepat kawen weyh!!!
hahaha,,
nway,,
i love you girls,,
nothing will change that :)
fullstop.
p.s. the Z boys pown syg jgak,,tp siket2 jew,,hahaha,,sbb dorg terlalu retarded untuk disygi sepenuh hati,,haha XD